Cherokee Nation launches broad expansion into film industry
Sandra Hale Schulman
Special to ICT
Film has become an important part of the Cherokee Nation's business and identity as the tribe continues to build upon the film office they launched in 2019, the first certified Native American film office in the country.
Now, after years of supporting award-winning productions and $1 million rebates, they are rolling out a reorganization of the tribe's filmmaking ecosystem and expanding the Cherokee Film Studios in Owasso, Oklahoma.
SUPPORT INDIGENOUS JOURNALISM. CONTRIBUTE TODAY.
Now named simply Cherokee Film, the enterprise includes four branches – Cherokee Film Productions, Cherokee Film Studios, the Cherokee Film Commission, and the Cherokee Film Institute — with 30 full-time employees.
Cherokee Film will continue to offer the enticing rebates for productions filmed in Oklahoma with the services of the tribal film office, but it will also increase production of its own original programming, help tribal citizens break into the industry and create jobs in and around the Cherokee Nation.
A groundbreaking ceremony was held on Wednesday, Aug. 30, for a new 10,000-square-foot studio, which will join a larger, extended reality or XR, facility that opened in July 2022.
"Cherokee Nation has quickly become a leading hub for Indigenous storytellers in television and film," Cherokee Nation Principal Chief Chuck Hoskin Jr. said at the groundbreaking.
"As we increase infrastructure, explore incentives, connect resources and remove barriers, Cherokee Nation and its businesses are helping grow and amplify television and film production in Oklahoma while making it possible for our citizens to be a part of it."
Cherokee Nation Businesses announced the expansion in late August with the new company name and divisions, as well as logos, new social media accounts and a website to represent the tribe's continued efforts.
Breaking new ground
The existing 27,000-square-foot studio — known as Cherokee Film Studios, Owasso Campus — was the first of its kind in Oklahoma and in Indian Country, though the Tesuque Pueblo tribe now operates Camel Rock Studios, a movie studio in an existing building that once housed a casino in New Mexico.
Owasso Campus sits on more than four acres in the Cherokee Nation Reservation and includes dedicated studio spaces with edit suites, a control room, a professional-grade audio booth, crew and client lounges, and hair and make-up facilities to meet the growing needs of production in Oklahoma.
Related story:
—Tribes open film studios to lure movie, TV productions
The new 10,000-square-foot soundstage will feature a 35-foot ceiling, full soundproofing to cinema standards, a modular truss system with chain hoists, a hair and make-up room, a multipurpose-flex space, 14-foot bay doors for load-ins and RV hookups for production trailers. It is expected to be completed in 2024.
"Cherokee Nation and its businesses continue to stand at the forefront of industry and economic growth in Oklahoma," Chuck Garrett, the chief executive officer of Cherokee Nation Businesses said at the groundbreaking.
"We are very proud of our ongoing leadership role in helping grow and evolve the film and television industry, and it's time that our brand recognizes the entirety of those efforts," Garrett said.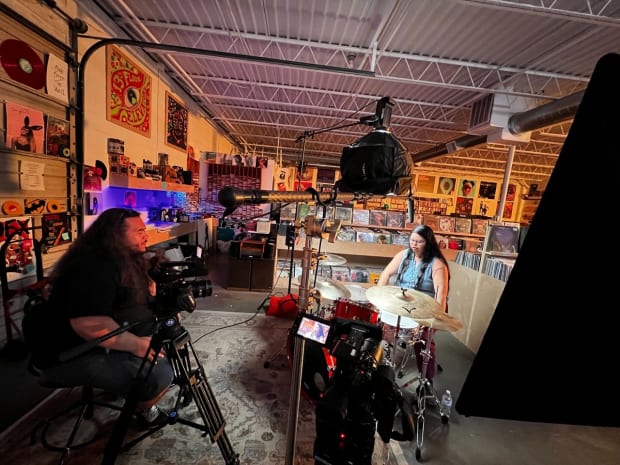 The four branches of Cherokee Film will expand the tribe's already extensive efforts.
The Cherokee Film Commission will continue to offer its $1 million annual rebate to film production in the state and will serve as the liaison to Indian Country, connecting productions with diverse locations spanning five eco-regions, skilled Native talent and crew, and the virtual production soundstage.
The Cherokee Film Institute will train, develop and elevate Native and local talent to work professionally in the film and media industries, creating sustainable career opportunities within the Cherokee Nation and beyond.
Under the new Cherokee Film Productions, the tribe will continue the popular award-winning television production OsiyoTV and will add new projects that tell Cherokee stories and contribute to the tribe's language revitalization efforts.
The National Academy of Television, Arts & Sciences recently recognized the show, "Osiyo, Voices of the Cherokee People," with six Heartland Regional Emmy Awards.
The tribe's cultural television series, and the short documentaries included within it, continue to be honored with numerous regional, national and international accolades for its approach to sharing real-life stories of the Cherokee people.
The show, which is often referred to as OsiyoTV, ranks among the most-awarded Indigenous-run series in the industry. The 2023 Heartland Regional Emmy Awards bring the show's total Emmy wins to 22.
Since premiering in 2015, "Osiyo, Voices of the Cherokee People" has featured hundreds of Cherokees from both past and present. The first-of-its-kind series, hosted and executive produced by Cherokee Nation filmmaker and Emmy-winning journalist Jennifer Loren, is breaking barriers and helping change how Native Americans are represented.
And Cherokee Film Studios, meanwhile, will continue to support the local, regional and Native film industries through investments in infrastructure that expand on the tribe's existing soundstage facility in Owasso.
Looking ahead
Hollywood is already gaining interest in Oklahoma.
Among the projects that have filmed in Oklahoma are the "Reservation Dogs" series; the film "Stillwater," featuring Matt Damon; HBO Max's "Land of Gold"; and Martin Scorsese's highly anticipated "Killers of the Flower Moon," the upcoming Apple+ film about the murder of members of the Osage tribe in the 1920s.
Scorsese's western shot a few days on Cherokee land and worked with its film office on casting, an experience tribal leaders are hoping to build on.
The first film to receive the $1 million rebate was "Fancy Dance," the Erica Tremblay film shot on the Cherokee Nation, which made its world premiere in the 2023 Sundance Film Festival and was a finalist in the U.S. Dramatic Competition.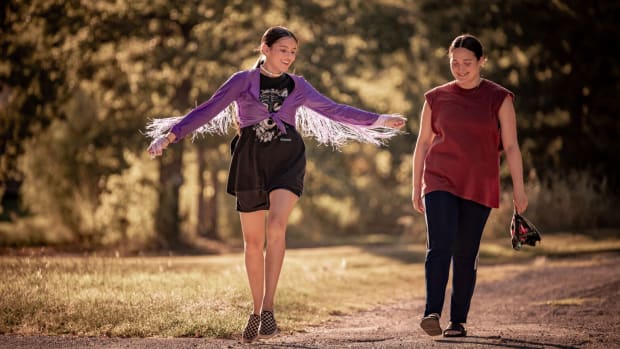 "We knew it was going to be a success," Jennifer Loren, senior director of Cherokee Film, told the Tulsa World after returning from the festival. "We had a pretty good feeling. That film, everything about it supports the mission of the Cherokee Film Office. It was a great fit."
Starring actress Lily Gladstone, who is also in "Killers of the Flower Moon" with Leonardo DiCaprio, "Fancy Dance' was a high-profile first for the Cherokee Nation Film Incentive program though other incentive projects have since been completed.
"('Fancy Dance') is the first to get a check, to get the cash rebate," Loren said. "There were several projects that were kind of the first wave, but they were the first ones to turn in the ledgers and everything to get their rebate."
Other projects are on the way, but likely have been stalled by ongoing strikes by both the Screen Actors Guild-American Federation of Television and Radio Artists, and the Writers Guild of America.
The movie "Twisters," a sequel to the 1996 film "Twister," was in the midst of filming in Oklahoma when the industry was shut down by the strikes. The Universal film, with a monster $200 million budget, stars Daisy Edgar-Jones, Glen Powell and Anthony Ramos, and had an expected release date in the summer of 2024.
Loren said four projects pre-approved for the incentive are in line to be filmed in 2023, though the strikes will cause delays.
Among those is a standout Indigenous story by Andrew Troy, a historical feature, "I Am A Man: The True Story of Ponca Chief Standing Bear."
To qualify for the incentive, a film or TV show working with the Cherokee Film Office doesn't have to be Native-themed. Cherokee Nation officials say they will consider the projects by merit rather than on a first-come, first-served basis, and special consideration will be given to projects that help dispel stereotypes about Indigenous people.
"The launch of Cherokee Film represents a new way forward, not just for the Cherokee people, but for all of Indian Country and for film and media as a whole," Loren said in a statement. "With a community-driven mindset, we have built a living, breathing ecosystem to create positive change through the practice of storytelling in the digital age."
She continued, "With Cherokee Film's new investments in film and media production and investments in educating our workforce, we hope to create lasting change that will help diversify the stories we see in mainstream media. Our team at Cherokee Film is passionate about creating a better and more inclusive life for the next seven generations."

Our stories are worth telling. Our stories are worth sharing. Our stories are worth your support. Contribute $5 or $10 today to help ICT carry out its critical mission. Sign up for ICT's free newsletter.