An Indigenous room in hip-hop's mansion
R. Vincent Moniz Jr.
ICT
For five amazing decades, the world has been filled with the sounds, stories and voices of hip-hop. From music to brand deals, rapping to the beat has become a destination for poets and hustlers alike. But where in this behemoth of a building will you find exhibition space for Natives? Where is the room in this lodge for those who have been singing their prayers to beats passed down from their ancestors' hearts?
It is a place much of Indian Country knows the direct location of. Every two-step those first Native rappers danced, another song was created. Star blankets transformed from curtains and doors, into soundproofing for closet turned recording studio.
There is not a specific date when Native people first reached for the mic. The cities and tribal lands they come from have their own creation stories and heroes of the game. The beginning of each rhymesayers origin story is as rich and diverse as the nations and neighborhoods they come from.
Gichi-manido wiidookawishin ji-mashkawiziyaan
(Great Spirit help me to be strong)

Mii dash bami'idiziyaan
(So that I can help myself)

Miizhishinaam zaagi'iiwewin
(Show us all love)

Ganoozh ishinaam, bizindaw ishinaam
(Talk to us, hear us)

Mii-wenji nagamoyaan
(That is why I am singing)

Nimishomis wiidookawishinaam ji-aabajitooyaang anishinaabe izhitwaawin
(Grand father help us to use the Anishinaabe customs)

Mii-ji-bi-gikendamaan keyaa anishinaabe bimaadiziwin
(So that we'll know how to live the Anishinaabe way/the good life)


– Tall Paul, Ojibwemowin lyrics from 'Prayers in a Song'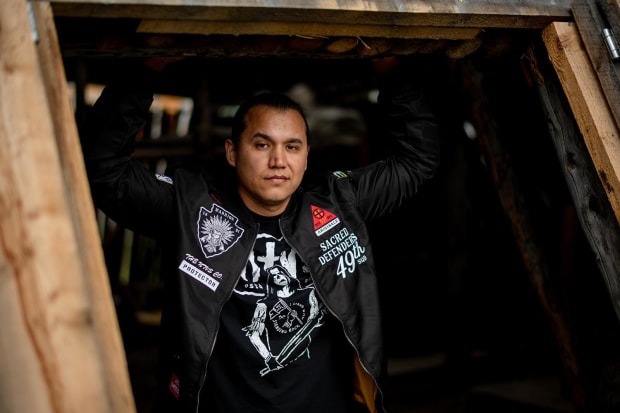 What is known, is that Native people immediately connected with the beats, dances, and the intricate plot being told by master storytellers. Tales of survival, of triumph and tragedy were kindling First Nations had already spit like hot fire.
Like many Native children, the start for "MuMu Fresh" began with teasing relatives. These Afro-Indigenous youth, who grew up in and around Baltimore, Maryland's Indian Center, stepped up their smack talk with tight flows.
The Baltimore Native remembers her brother's ability to battle rap was the stuff of front stoop legends. However, younger sisters, no matter how much they loved the word play, were not allowed. MuMu Fresh talked about growing the four sisters of her rhyme game with the determination to get outside. The front steps were linked to her start when she tore through the Goliath to Fresh's David.
Related:
— Miracle Spotted Bear is stuck in between
— 'I was raised through music'
—'He who walks through the battle smoke'
—Rising Lakota musician 'Hittin' Home Runs'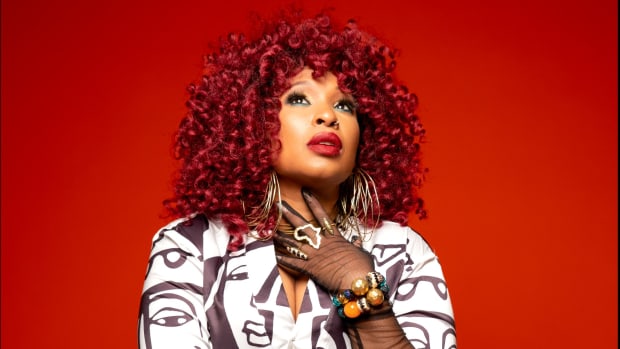 Leech Lake Ojibwe citizen Tall Paul knows the front and back end of the hip-hop genre. His appreciation of Native rap is deeper than 10,000 lakes. This Anishinaabe rhymer has no problem listing artists he likes and the ones he is keeping an ear to. One of the things that separates Native hip hop is the inclusion of Indigenous melodies and languages. 'Prayers In A Song', written Tall Paul, features the hip-hop artist rapping to the beat in Anishinaabemowin. The track, now a classic, was a turning point. Our languages can be braided into any beat, but these two were like connecting puzzle pieces of a larger masterpiece
Paul, who was raised in south Minneapolis, knows that it takes a lot of work to find success. The rapper has many hopes for the next 50 years of hip-hop. He sees more opportunity for artists to have the freedom to express themselves and their personal experiences. To the Tallest of them all, hip-hop is a gift. It is for strong hearts with cold flows to begin a remodel of their own. Fitting more Indigenous people into the mansion hip-hop built.

ICT is a nonprofit news organization. Will you support our work? All of our content is free. There are no subscriptions or costs. And we have hired more Native journalists in the past year than any news organization ─ and with your help we will continue to grow and create career paths for our people. Support ICT for as little as $10.